2020 Annual Meeting & Board of Supervisors Election Results
The Noble Soil and Water Conservation District held its 78th Annual Meeting and Banquet on October 15th, 2020 at the Noble County Community Center.  The evening started out by voting for SWCD board members.  The candidates running were Don Archer, Skyler King and Randy Patrick, for two supervisor positions. The supervisors elected were: Don Archer and Skyler King; their three year term will begin January 1, 2021.  Richard Gessel, SWCD board chairman, started off the evening with the Pledge of Allegiance, followed by Don Archer, SWCD fiscal agent, with the Invocation.  The guests of 70 plus enjoyed a barbeque dinner catered and prepared by Tim and Jody Parsons', owners of Hog Hollow BBQ, from Beverly.  During dinner the crowd enjoyed a power point presentation covering the Noble Soil and Water Conservation Districts 2020 Year in Review.  After dinner, Dave Schott, District Administrator and Wildlife/Forestry Specialist, for Noble SWCD recognized all the special guest, including elected officials, area agency workers and any election candidates.  Dave Schott, then introduced the 2020 "Cooperator of the Year Award" to Allen Schockling and his family, of Tybenal Farms.  Allen, his wife, Tamra, and their sons Tyler and Benjamin, work a 160 acre beef operation in Enoch and Center Townships, in Noble County. The Schockling family has installed numerous conservation practices on their farm including: spring developments, fencing, weed control, and grass seedings. All of this work was done to make their farm more productive, along with conserving the natural resources for themselves and future generations in Noble County.  Dave then presented the "Friend of Conservation Award" to the Ohio Chapter of the National Wild Turkey Federation, and Whitetails Unlimited. These two organizations always have rallied around the Noble SWCD, and through the help of their grants the District was able to purchase a new No-Till Drill in 2018, and a new 2 Row Corn Planter in 2020. This new equipment was quickly put to use and has been used to plant over 250 acres of various crops in the year 2020 alone.
The Noble Soil and Water Conservation District Supervisors and Staff would like to express a sincere thanks to all the candidates that ran for supervisor, and all of the supporters who attended the evening's festivities to celebrate another great year in conservation.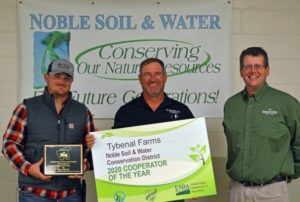 Pictured above from Left to Right: Tyler and Allen Schockling, operators of Tybenal Farms, and Dave Schott, Noble SWCD District Administrator, Wildlife/Forestry Specialist.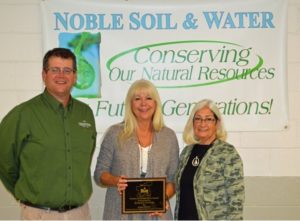 Pictured above from Left to Right: Dave Schott, Noble SWCD District Administrator, Forestry/Wildlife Specialist presenting Jody Finch, and Sandra Cain, Southeast Ohio Whitetails Unlimited Representatives, the "Friend of Conservation" Award.