2020 Board of Supervisors Election Notice and Annual Meeting Information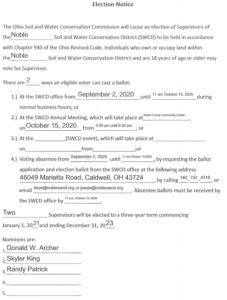 For the past 78 Years Noble Soil and Water Conservation District has been having their annual meeting and dinner, and this year is no different. This year the annual meeting and banquet, along with the election of two District Supervisors, will be held on October 15th, at the Noble County Community Center.  The evening will start with the voting of two supervisors from 5:30pm until 6:30pm.  Followed by a catered, BBQ Dinner, by Hog Hollow, at 6:30pm.  After dinner we will present the Noble SWCD "Cooperator of the Year" award, and "Friend of Conservation" award.  The evening will conclude with a review of the year for the Noble Soil and Water Conservation District.
This event is open to the public and everyone is invited to attend.  Ticket cost is $10.00 for adults, and tickets are free to children 12 and younger.  For tickets, contact the Noble SWCD office at 740-732-4318, or stop by the office located at 46049 Marietta Road, Caldwell.  You can also contact any of the current SWCD board members, Richard Gessel, Don Archer, Sam Schneeberger, Levi Fogle, or Skyler King for tickets.  Ticket sales will end Friday, October 9th, 2020.
There are three ways an eligible voter can cast a ballot: (1) at the SWCD Annual Meeting, voting will take place on October 15th, 2020, from 5:30 pm until 6:30 pm at the Noble County Community Center; (2) at the SWCD office from September 2nd, 2020 until 11:00 am on October 15th, 2020; or (3) vote absentee by requesting the proper absentee request forms from the Noble SWCD office at the 46049 Marietta Road, Caldwell, OH 43724.  All Absentee ballots must be received by the SWCD by October 15th, 2020, in order to be eligible for election.  An eligible voter is considered to be a resident or landowner, firm, and corporation that owns or occupy land in Noble County. The voter must be 18-years of age and older to vote for a Supervisor. A non-resident landowner, firm, or corporation must provide an affidavit of eligibility, which includes designation of a voting representative, prior to casting a ballot.
Running for the Board of Supervisors, with a term starting January 1st, 2021, and lasting until December 31st, 2023 are: Don Archer, Skyler King and Randy Patrick.
Don Archer (INCUMBANT) – Lives in Marion Township. Don raises beef cattle, hay, and timber. Don has installed heavy use pads, spring developments, controls invasive species, and does rotational grazing.  Don is a retired Ag Ed Teacher and FFA Advisor, a member of the Caldwell United Methodist Church where he serves as Treasurer, and is a member of the Noble County Farm Bureau.  Don has served on the Noble SWCD Board since January of 2012, and serves currently as the Financial Advisor. Don believes in using the natural resources in Noble County to their fullest potential, without abusing or depleting them.
Skyler King (INCUMBANT)–Lives in Olive Twp. With his wife Lisa, and daughter Audrey. Skyler has been farming since the age of nine, and he raises beef cattle, and grows corn, hay, alfalfa, and timber.  Skyler has incorporated conservation into his farming operation by way of spring developments, contour strips, and rotational grazing. Skyler currently serves as vice Chairman on the Noble SWCD Board, and has been on the Board since January 2015. Skyler's biggest concerns for the natural resources in Noble County are soil erosion and invasive species.  He is also very passionate about farming and wants people to realize the importance of keeping family farms alive in Noble County.
Randy Patrick- a lifelong Ohioan who moved to Noble County in 2006. After 40 years of ironwork, Randy retired and started a second career as the owner of Jones Feed in downtown Caldwell. He enjoys spending his days supporting and sharing his love of farming with his community. As a small farmer and feed store owner, Randy understands firsthand the needs and concerns facing farmers with both big and small farms. Every day Randy strives to preserve our way of life, protect our land, and share the farming traditions he learned from his grandfather.