Noble SWCD Staff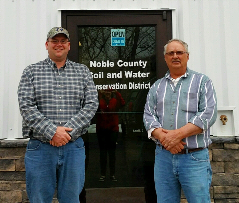 L-R: Dave Schott and Jim Mizik
Mission Statement
To conserve the natural resources of Noble County by educating and providing technical services to land users for future generations.
About Us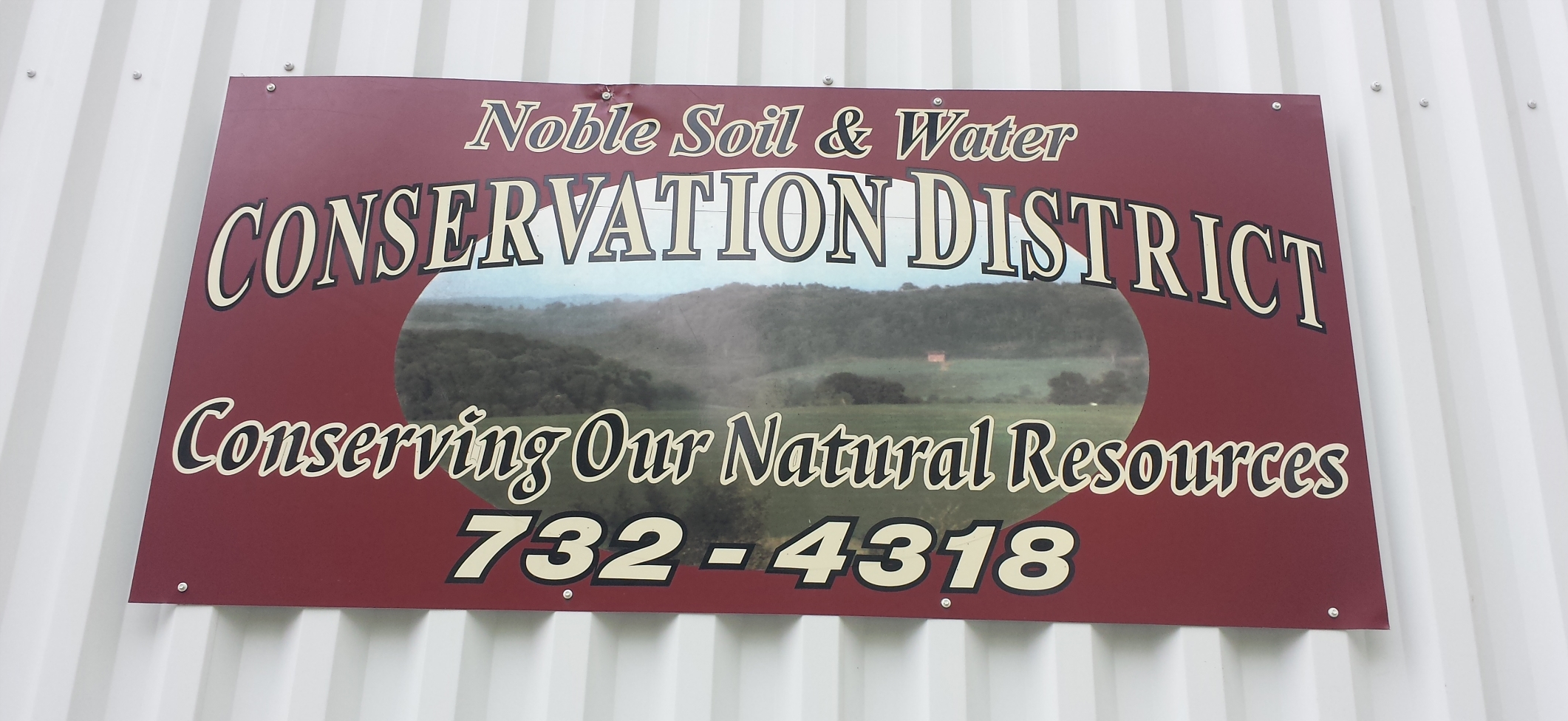 Noble Soil & Water Conservation District (SWCD) was organized in July 1942. It was the 6th district to be organized in Ohio. The district is a legal sub – division of the state and state law mandates that the district be governed by a board of supervisors (who serves without pay) consisting of 5 members.
These members are elected for a three year term at our annual meeting held in the fall. Any resident or landowner in Noble County are eligible to participate in the election. Regular meetings are opened to the public and held the second Wednesday of every month.
Social Media
Noble County Soil and Water Conservation District shared Monroe County SWCD's photo. ... See MoreSee Less
We are partnering with Monroe County OSU Extension and we are offering a Fruit Pruning Workshop! It will be held on Friday, February 24 at 5:00 pm at Schonau Farms located at 46747 state route 26, Woodsfield, located right across from the fairgrounds! We would just ask that you pre register by calling the SWCD office at 740-472-5477 or OSU Extension at 740-472-0810! And there is no charge for this event!
2 weeks ago ·
This is something you might want to mark on your calendar. The Noble SWCD along with the Division of Forestry will be having a workshop on growing your own Shiitake Mushrooms. ... See MoreSee Less
3 weeks ago ·
Noble Soil and Water Annual Tree Seedling, and Wildlife Food Plot Seed Sale is underway. First come, first serve. Supplies are limited!! Call or stop by the office for an order form. You can also check out our website at www.nobleswcd.org for an order form and descriptions. ... See MoreSee Less
3 weeks ago ·
Beginner's Beekeeping Class is scheduled for February 4, 2017 at the Noble Soil & Water Office Meeting Room. Don Crock, Noble County Bee Inspector will be having a class for beginner beekeepers. The class will be 5 hours of classroom on February 4th, and then 2 hours of in the field class in the spring at Don Crock's apiary. The date in the spring will be announced at a later date. Cost is $35 and includes book, membership to the Guernsey /Noble County Beekeepers Association and other teaching materials. To register and more information contact Don Crock at 740-581-1883 or email him at doncrock@yahoo.com ... See MoreSee Less
1 month ago ·
Christmas will be a little nicer for 30 Noble County kids this year. Thanks to NWTF Shenandoah Valley Ghost Gobblers, Randy Pattrick- New Owner of Jones Feed LLC, Jim and Ellen Mizik of Double Tree Farm, Noble County Soil and Water Conservation District, Caldwell Lady Redskins High School Basketball Team, Pritchard Laughlin Civic Center, and D&J Farm. These kids will now be able to go outside and enjoy their new basketballs, fishing poles, turkey calls, deer calls, and camo. Thanks again to everyone that donated. Merry Christmas! ... See MoreSee Less
2 months ago ·
Hey everyone, Noble Soil and Water along with The HARP Mission in Caldwell is trying to make christmas for 30 kids in Noble County. We are looking for any hunting, trapping, fishing, and even athletic gear you might have laying around that you would be willing to donate. This can include camo clothing, hunter orange clothing, deer grunt calls, turkey calls, fishing poles, baseballs, footballs, bats, gloves, basketballs, footballs etc.. Its great that we have kids that want to get out and experence the great outdoors instead of setting inside and playing video games. So help us spread the word to people around the county to help these kids out. If you dont have any of these items the HARP Mission will accept a cash donation and will go out and purchase the items needed. ... See MoreSee Less
2 months ago ·
Web page is back up and running again. Check it out at www.nobleswcd.org ... See MoreSee Less
Noble SWCD StaffL-R: Dave Schott and Jim MizikMission StatementTo conserve the natural resources of Noble County by educating and providing technical services to land users for future generations. About UsNoble Soil & Water Conservation District (SWCD) was organized in July 1942. It was the 6th dist...
2 months ago ·
Opening Day of Shotgun Season Results Out.
Ohio's Deer-Gun Season Opens with
more than 18,000 Deer Harvested

COLUMBUS, OH - Hunters checked 18,776 white-tailed deer on Monday, Nov. 28, the opening day of Ohio's deer-gun hunting season, according to the Ohio Department of Natural Resources (ODNR). In 2015, 22,253 deer were reported the first day of the deer-gun season.
Ohio's deer-gun season remains open through Sunday, Dec. 4. Two additional days of deer-gun season (Saturday, Dec. 17, and Sunday, Dec. 18) are available for people to hunt with firearms. Find more information about deer hunting in the Ohio 2016-2017 Hunting and Trapping Regulations or at wildohio.gov. Past years' harvest summaries and weekly updated harvest reports can be found at wildohio.gov/deerharvest.
The ODNR Division of Wildlife remains committed to properly managing Ohio's deer populations. The goal of Ohio's Deer Management Program is to provide a deer population that maximizes recreational opportunities, while minimizing conflicts with landowners and motorists.
Hunting Popularity
Ohio ranks fifth nationally in resident hunters and 11th in the number of jobs associated with hunting-related industries. Hunting has a more than $853 million economic impact in Ohio through the sale of equipment, fuel, food, lodging and more, according to the National Shooting Sports Foundation's Hunting in America: An Economic Force for Conservation publication.
ODNR ensures a balance between wise use and protection of our natural resources for the benefit of all. Visit the ODNR website at ohiodnr.gov.
- 30 -
Editor's Note: A list of all white-tailed deer checked by hunters during opening day of the 2016 deer-gun hunting season is shown below. The first number following the county's name shows the harvest numbers for opening day 2016, and the 2015 opening day harvest numbers are in parentheses.
Adams: 274 (373); Allen: 58 (116); Ashland: 411 (483); Ashtabula: 701 (771); Athens: 375 (420); Auglaize: 41 (99); Belmont: 407 (429); Brown: 167 (248); Butler: 36 (66); Carroll: 480 (571); Champaign: 70 (104); Clark: 29 (52); Clermont: 81 (154); Clinton: 58 (79); Columbiana: 419 (522); Coshocton: 767 (888); Crawford: 134 (177); Cuyahoga: 8 (7); Darke: 47 (74); Defiance: 179 (316); Delaware: 88 (110); Erie: 50 (66); Fairfield: 182 (219); Fayette: 30 (33); Franklin: 32 (31); Fulton: 79 (140); Gallia: 379 (372); Geauga: 147 (167); Greene: 43 (54); Guernsey: 592 (647); Hamilton: 18 (44); Hancock: 95 (135); Hardin: 94 (149); Harrison: 529 (556); Henry: 67 (125); Highland: 221 (300); Hocking: 431 (521); Holmes: 542 (552); Huron: 342 (367); Jackson: 270 (377); Jefferson: 365 (386); Knox: 651 (619); Lake: 53 (44); Lawrence: 208 (224); Licking: 463 (562); Logan: 155 (249); Lorain: 180 (195); Lucas: 23 (27); Madison: 30 (28); Mahoning: 168 (165); Marion: 96 (120); Medina: 154 (152); Meigs: 392 (418); Mercer: 38 (76); Miami: 28 (52); Monroe: 333 (334); Montgomery: 18 (28); Morgan: 364 (387); Morrow: 158 (184); Muskingum: 696 (722); Noble: 386 (352); Ottawa: 20 (20); Paulding: 75 (157); Perry: 339 (399); Pickaway: 65 (107); Pike: 180 (209); Portage: 155 (157); Preble: 47 (80); Putnam: 60 (90); Richland: 355 (462); Ross: 263 (320); Sandusky: 41 (76); Scioto: 195 (206); Seneca: 203 (273); Shelby: 79 (97); Stark: 208 (248); Summit: 30 (24); Trumbull: 425 (468); Tuscarawas: 645 (658); Union: 67 (97); Van Wert: 31 (63); Vinton: 338 (401); Warren: 34 (61); Washington: 438 (490); Wayne: 206 (211); Williams: 138 (327); Wood: 39 (87); Wyandot: 168 (227).
Total: 18,776 (22,253).
For more information, contact:
John Windau, ODNR Division of Wildlife
614-265-6325
Matt Eiselstein, ODNR Office of Communications
614-265-6860 ... See MoreSee Less
2 months ago ·
Noble County Soil and Water partnered with Noble County OSU Extension last night to hold a Venison Workshop. Had a good turn out. I don't think anyone went home hungry. ... See MoreSee Less
Thank you to Noble County Soil and Water Conservation District and Guernsey Soil & Water Conservation District for helping us with our Venison Workshop: From Field to Table. It was a great event with a lot of valuable information. We look forward to having more join us next year!
2 months ago ·